Modeling light propagation and its impact is crucial for measuring product performance and human comfort, perception and safety. Ansys Optics & VR uniquely simulates a system's optical performance and evaluates the final illumination effect, predicts and validates the impact of lighting and material variations on appearance and perceived quality all in real conditions. Visualize your product before it exists to deliver the ultimate virtual customer experience.
Optics & Virtual Reality (VR) Products
Ansys SPEOS
Ansys SPEOS delivers an intuitive and comprehensive user interface, enhanced productivity with use of GPUs for simulation previews and easy access to the Ansysmultiphysics ecosystem.
Simulate Sensor Vision

Advanced Optical Analysis

Optical Design Optimization

Human Vision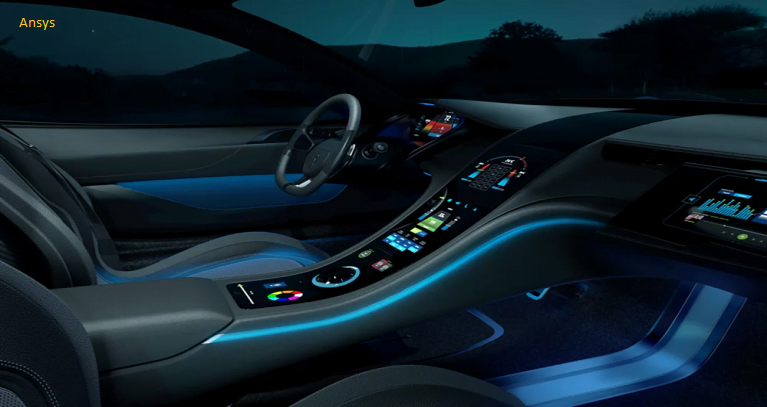 Ansys VRXperience Light Simulation
The use of Ansys VRXPERIENCE Light Simulation enables you to combine 3D visualization and virtual prototyping software with physics-based lighting simulation solutions, for interior and exterior lighting. This unique solution empowers you to combine correct optical properties of all materials and light sources with physical ray tracing of light to ensure a fully true-to-life virtual representation. The seamless workflow with Autodesk VRED and VRXPERIENCE Light Simulation allows you to enjoy engineering-grade light simulation.
Physically-Based Light Simulation

Accelerate the Design Decision-Making Process

Powerful and Innovative Lighting Systems

Bridging the Gap Between Design and Engineering
Ansys VRXperience Perceived Quality
Test and validate your product design in context. VRXPERIENCE Perceived Quality can instantly compare multiple design intents for materials and lighting. The process allows you to validate choices against design specifications and select lighting and material combinations in lifelike conditions. Create a virtual prototype from a 3D format and easily prepare a virtual model, helping you make choices early in the design process, in real-time optical simulation.
Fast Design Process

Physics-based Light Simulation

Validate Product in Context

Highly Accurate Renderings
AR VRXperience HMI
Ansys VRXPERIENCE HMI lets you test and validate a full cockpit HMI design—including virtual displays and actuators—through visual simulation, eye and finger tracking and haptic feedback. With a full HMI evaluation for next-generation vehicles using virtual reality, this tool reduces the time and cost of design by decreasing the number of expensive physical prototypes needed to validate products.
Software in the Loop

Interactive Prototype in Virtual Reality

Test Your Embedded Software

Ready to Use for Flight Simulation

Interact with Your Cutting-Edge HMI System

Human in the Loop
Get in touch
Transform your business to the next level.