The Industrial Internet of Things (IIoT) is much more advanced than the commercial IoT, primarily due to the prevalence of connected sensors in the industrial world, which are the "things" in the IoT. Hundreds of millions of connected wired and wireless pressure, level, flow, temperature, vibration, acoustic, position, analytical, and other sensors are installed and operating in the industrial sector, and millions more are added annually, increasing value with additional monitoring, analysis, and optimization. These sensors connect to a variety of higher level software platforms, both on- and offsite.
On-site connections are often via a local intranet, creating an Industrial Intranet of Things. Offsite connections are usually made through the Internet, often via a cloud-based storage system. These higher level software platforms include control and monitoring, asset management, and specialized data-analysis systems. At remote data-analysis centers, sophisticated big data analytics are performed by dedicated experts to reveal patterns, problems, and solutions.
The IIoT connects sensors to analytic and other systems to automatically improve performance, safety, reliability, and energy efficiency by:
Collecting data from sensors (things) much more cost-effectively than ever before because sensors are often battery-powered and wireless
Interpreting this data strategically using big data analytics and other techniques to turn the data into actionable information.
Presenting this actionable information to the right person, either plant personnel or remote experts, and at the right time.
Delivering performance improvements when personnel takes corrective action.
Improved Performance
Increase Operational Efficiency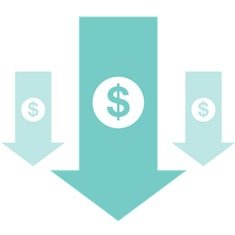 Reduced Cost by Predictive Maintenance
Get in touch
Transform your business to the next level.